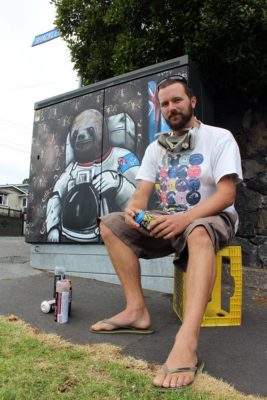 Paul Walsh is a self-taught artist from Rotorua.
He works in a range of mediums, from watercolour to spraypaint. He has been selling his work via this website since December 2000, and they have been purchased by collectors in the United States, Australia, the UK, France, and throughout New Zealand.
His most recent project – painting the Chorus DSL Cabinets that you can find on the streets of Auckland – received international attention from websites such as My Modern Met, Laughing Squid, CBC (Canadian Broadcasting Company) and the CNN-affiliated Headline News, as well as being featured on the TV3 current affairs show 'Story'. His artwork has also been used by bFM, Fat Freddy's Drop, Base FM, Alt TV, 'Sione's Wedding 2', the TV show 'The Almighty Johnsons' and noise band god bows to math.
Paul currently resides in Auckland with his wife and two children.
EXHIBITIONS
PRESS