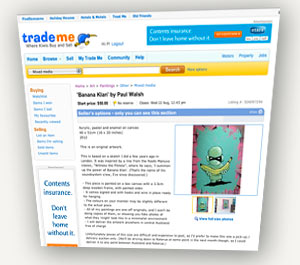 I'm putting a bunch of old paintings and prints (and other random items) up for sale on NZ auction site Trademe this week. If you're in New Zealand and are looking to pick up some of my work for cheap, check out the auctions here.
Overseas fans – if you see something you'd like on there which hasn't been bid on, I can cancel the auction and work something out with you over Paypal. (Convert the 'buy now' price to your local currency for the price, and I'll find out shipping costs for your location.) Just drop me a line, at paul@paulwalsh.co.nz.
UPDATE: Sold all of that batch. More to come by the end of the year though..!