biography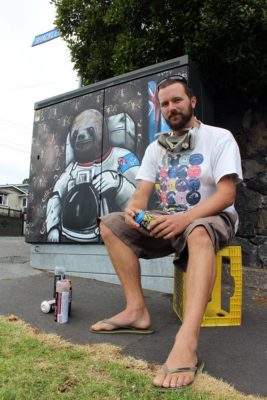 Paul X Walsh is one of New Zealand's most prolific public artists, having painted dozens of murals and over 70 utility box artworks around the country.
Born and raised in Rotorua, he has lived in Ngongotaha, Wellington and London, and is now based in Auckland. He has been working as a full-time artist since 2012, before which he held down a wide range of jobs – including website design, DJing, selling travel books, working in music stores, making sandwiches and washing dishes.
Paul works in a range of mediums, from spraypaint to watercolour. His art has been featured on multiple news websites, TV shows and blogs – Newshub, Radio NZ, Seven Sharp, My Modern Met, Laughing Squid, Central Leader, Canadian Broadcasting Company, the front page of Reddit and CNN's Headline News, amongst others.
He spends his time working on a wide range of commercial, public and private commissions, playing vintage video games, and going on bushwalks with his two young children.
paulwalsh.co.nz | @paulxwalsh on Instagram |  Paul X. Walsh on Facebook
EXHIBITIONS
PRESS